For us, the harvest 2013 in Pouilly took place from Monday 7th to Sunday 13th of October included. 7 days! We never harvest that fast, this to avoid the rains that followed on the next Monday, Tuesday and Wednesday…
Pierre, who had ordered a 3rd pneumatic press this year for maximum efficiency at the cellar, really appreciated this purchase which happened at the right moment, so he could assert himself and follow a rythm until then never reached at the cellar ( all of this of course, keeping a very long press duration of weak pressure : 3h45 from 0,15 to 1,75 bars) but especially to bring in the harvest in its entirety by dry weather , which was not that way everywhere in that vintage year 2013, demanding, but successful !
Les Pierres de Pierre 2012 mentioned as a success in RVF (Revue du Vin de France, n°572, June 2013, Special Vintage 2012)
New GOLD MEDAL for our Pouilly-Fumé 2012 obtained during the last worldwide competition of Sauvignon 2013.
During the last competition of Great Wines of France which took place in Mâcon the past 20th of April, our Pouilly Fumé "les Angelots" 2012 obtained a GOLD MEDAL!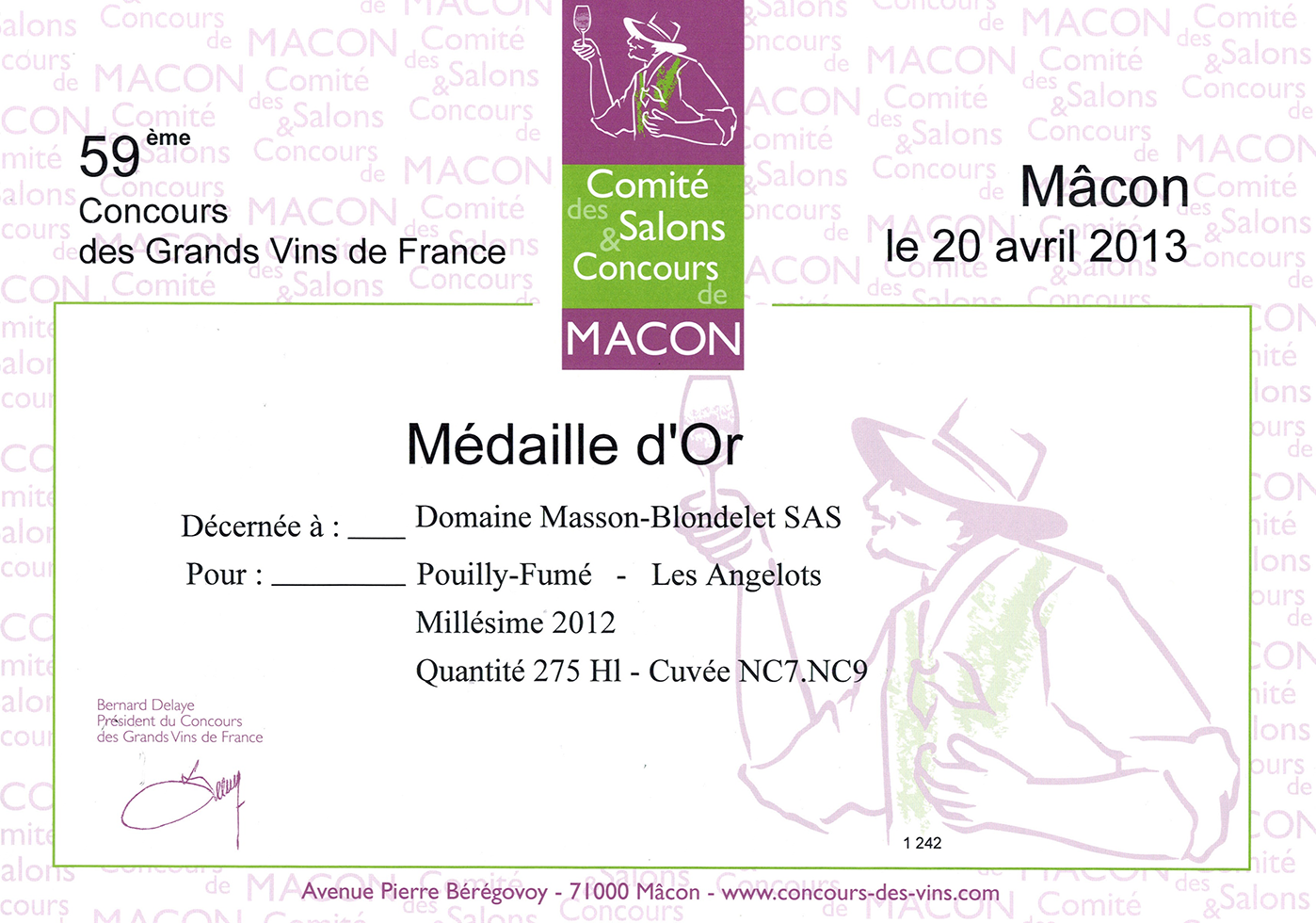 Bronze medal for our white Sancerre Thauvenay 2012 and Silver medal for our Pouilly Fumé 2012 in the famous British Competition IWC: International Wine Challenge 2013.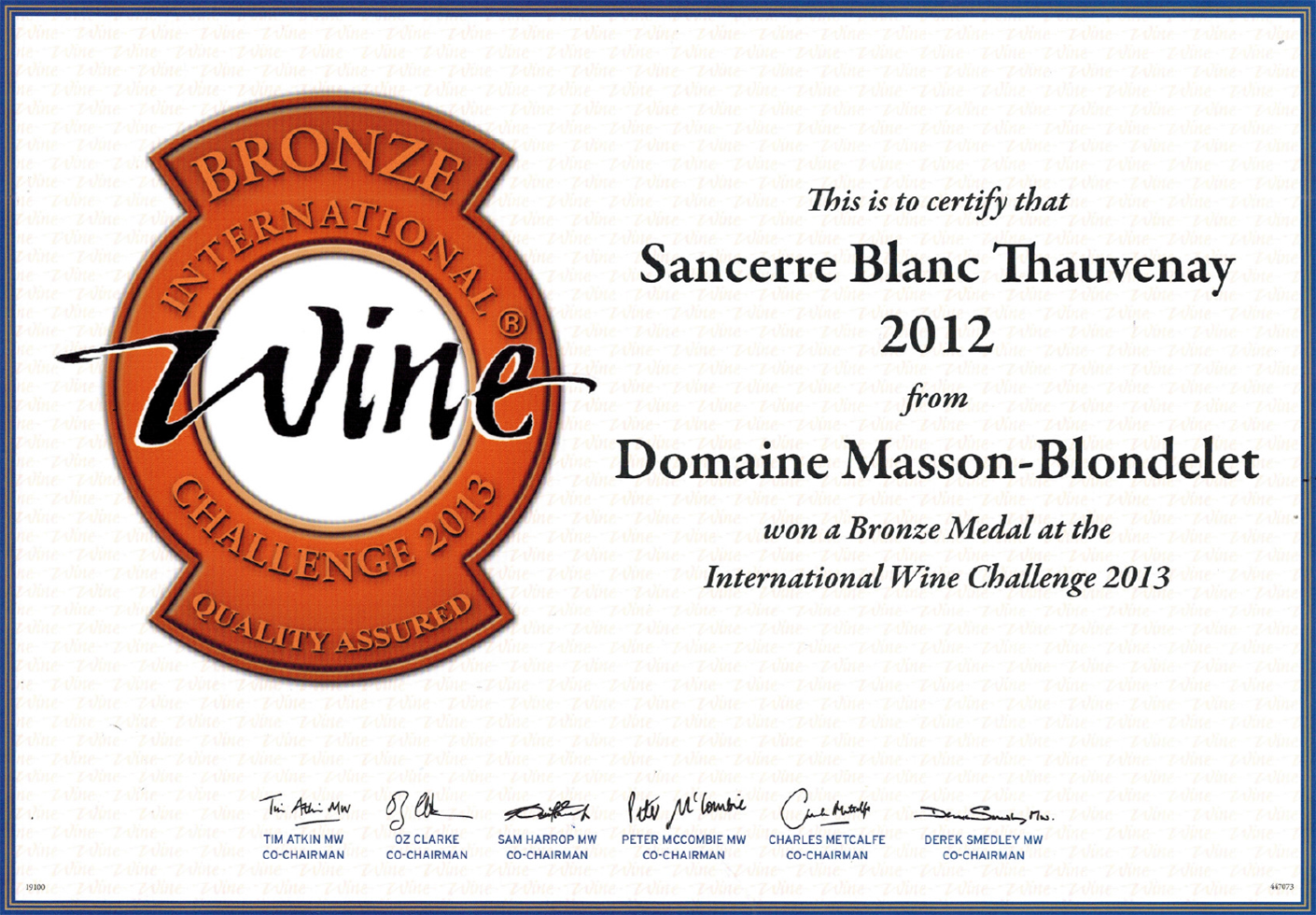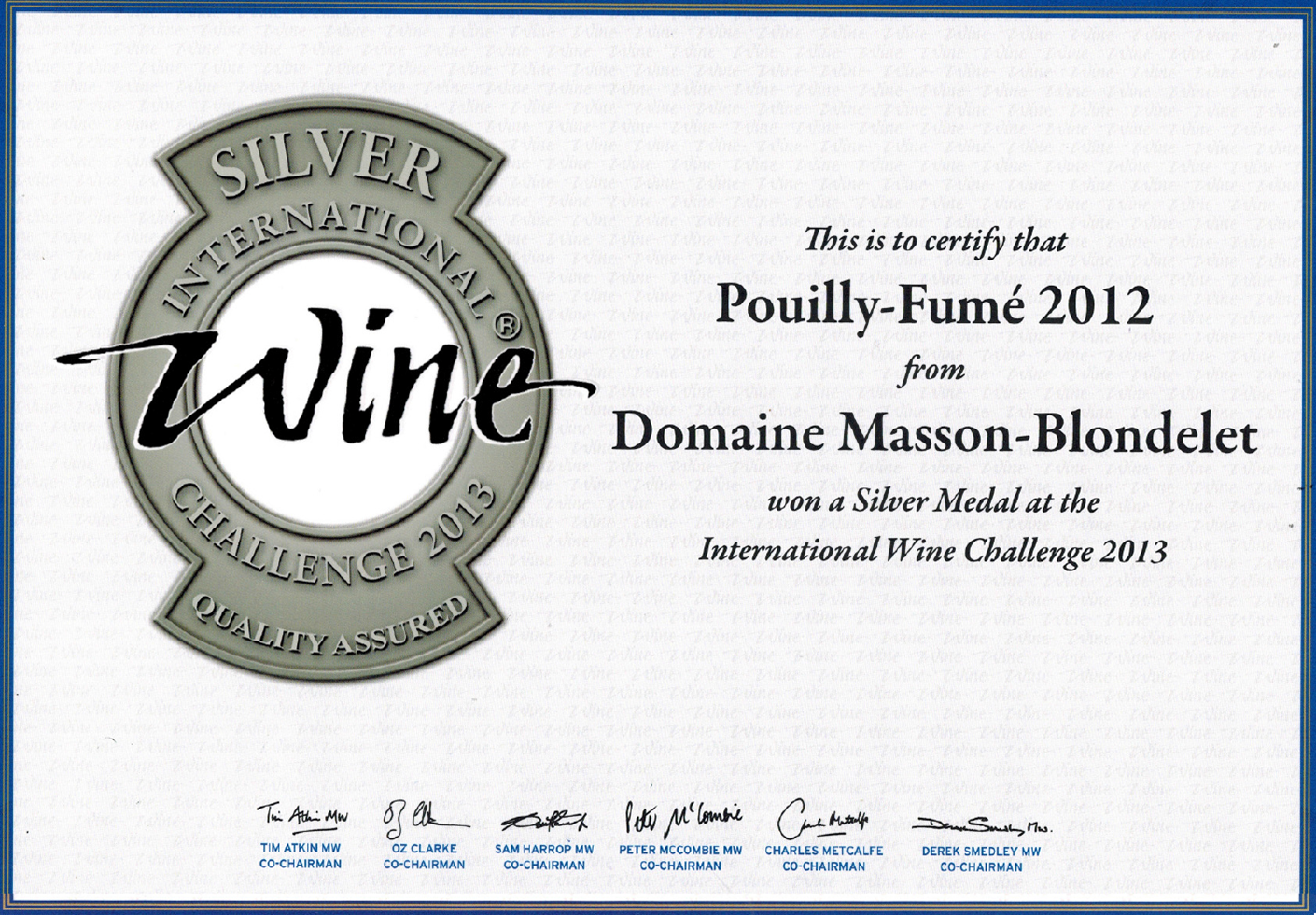 In the past month of March, DECANTER, the famous British monthly magazine that should not be missed dedicated to the worldwide wines awarded the mark of 18,5/20 pts so 95/100 to our Pouilly Fumé Villa Paulus 2010…
Meet Pierre and Mélanie from Domaine Masson-Blondelet at the next PRO WEIN fair in Düsseldorf from 23th to 25th March 2014 !
You will find us The Loire Valley Wines area, on Sopexa space, Hall 5, (stand number to come).
We look forward to meeting your there !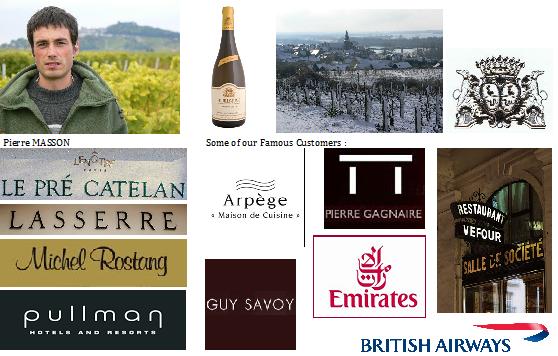 Our Sancerre Blanc Thauvenay 2010 was quoted in SHROPSHIRE MAGAZINE, dated Feb 2013, "Small is Beautiful"
Jacqueline FRIEDRICH, just finished a book on "The Kindgom of Sauvignon Blanc" : Sancerre, Pouilly-Fumé & satellites, named "Earthly delights from the garden of France", Masson-Blondelet is "Highly recommended"… Read More
Jim BUDD, famous British wine writer and journalist, came by surprise for a juce tasting during the harvest… Read More
Medal in Concours Mondial du Sauvignon 2011 :
SILVER for Pouilly-Fumé "Villa Paulus" 2010
Domaine Masson-Blondelet appears in Guide du Routard 2011.
Domaine Masson-Blondelet appears in Le Petit Futé 2011.
Masson-Blondelet appears in lesthe "Top Producers" in Roger Voss's article, published on the 6 Avril 2011 : Decode the Wines of the Loire Valley… Read More
Two Medals in Concours des Grands Vins de France de Mâcon 2009 :
GOLD for Pouilly-Fumé "Villa Paulus" 2008
SILVER for Red Sancerre "Thauvenay" 2007
Two Medals in Concours Général Agricole de Paris 2008 :
SILVER for Pouilly-Fumé "Villa Paulus" 2007
GOLD for White Sancerre "Thauvenay" 2007