Axuria, it means milk-fed lamb in Basque… And it is no coincidence that the chef and owner, Olivier Amestoy named his Parisian restaurant like that : the Basque Country is where he comes from!

In 2011, after 8 years as a Chef, he decided to take over the restaurant he worked for, formerly known as La Chaumière. Today, a natural atmosphere prevails at Axuria, decorated with clear and bright colours – nuances of beige and blue – embellished  with pebbles and pieces of driftwood. The entire place is an invitation to relax and pleasure.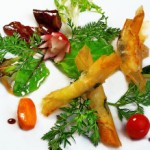 Also in the plate you will find gourmet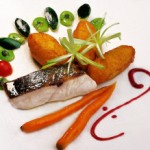 dishes. Noble fishes have the place of honour –  Red Mullet or St Jacques scallops – the Chef Olivier Amestoy always chooses them with "experience, taste and knowledge"1. Concerning meats, he prefers those from the Basque Country – duck, beef or veal « blonde d'aquitaine »1. But first, he uses only high quality and local products, following the seasons to offer you an authentic and generous cuisine, influenced by coast flavours and "Basque terroir"2.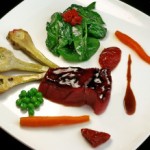 Creative, he revisits classic dishes for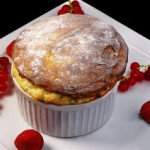 your "eyes and taste buds delight"1. Besides, the establishment has been awarded with one Toque Gault &Millau. Then, you can enjoy small foie gras and truffles raviolis served with boletus cream sauce and a bass fillet accompanied with a creamy risotto. And finally, the unforgettable specialities of the restaurant : the roasted milk-fed lamb with garlic and thyme, and the Grand Marnier soufflé as a dessert.
« Flirting with the spirit of the times, without forgetting tradition »3, these creative dishes will perfectly matched our Pouilly Fumé Villa Paulus 2014, now available in this restaurant.
Sources (text and photos) : 1 www.axuria-restaurant.fr ; 2 www.gaultmillau.fr ; 3 www.gillespudlowski.com ; www.restaurant.michelin.fr.