What could be better than a cuisine history that continues? The gastronomic restaurant of Michel Rostang, created in 1978 became today the double-starred Maison Rostang, where now four hands cook to delight our taste buds.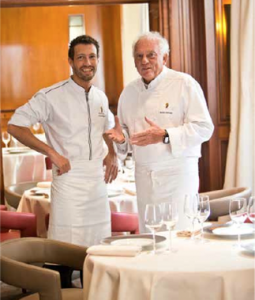 The establishement gathers the Chef Michel Rostang, whose "cuisine gradually became in line with the greatest tables"1 and its acutal Chef, Nicolas Beaumann. For Michel Rostang, son, grandson and great-grandson of Chefs, gastronomy is a family business. Moreover, this one has learned the job in the most famous restaurants – Lasserre et Lucas-Carton in Paris or even Pierre Laporte in Biarritz. Together, they continue "great classics and contemporary creations"2 through refined plates made from raw and seasonal products.
These flavoured dishes perfectly match "nectars from the restaurant's cellar"4. The wine list contains no less than 1300 references – 50.000 bottles carefully selected by Michel Rostang and his loyal Sommelier Alain Ronzatti, for who wine is a pleasure rather than an emotion. Thus, we can find "pearls of winemaking arts"3 but also wines from all the regions of the world such as our Pouilly-Fume Villa Paulus 2014, harvested on Kimmeridgian marls.
Then, you could combine it with some specialities such as the croque with Truffles, the soufflé of pike quenelle and its lubster sauce or even the poached Foie gras in a well-seasoned soup, with spring vegetables, sesame oil, mint and wild thyme4. In dessert, the crunchy cigare made of Tabacco from Havana, mousseline of Hennessy Cognac and Marsala ice cream has already made the success of the establishment.

« More than a gourmet break, a rendez-vous of aesthetes ! », Guide Michelin 2016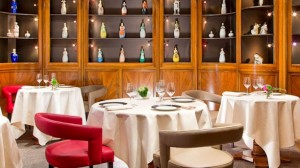 Four private rooms are available to customers in that "luxurious and unsual"1 decor : the Salon Art nouveau, Lalique, Robj ou Art contemporain3… All are embellished by amazing art collections selected by Michel Rostang himself. As you can imagine, the Chef is passionate about beautiful objects. And to honour this intimist place, be aware that formal dress is required!
Sources (Texte et photos) : 1 Guide Michelin 2017 ; 2 lesgrandestablesdumonde.com ; 3 maisonrostang.com ; 4 lafourchette.com ; 5 Elle Magazine.
Information :
La Maison Rostang, 20 Rue Rennequin, 75017 PARIS – +33(0)1 47 63 40 77
Open from Monday night to Friday noon from 12:30 to 2:00 pm and from 7:30 to 10:00 pm.