Looking to escape from the capital? There is no need to travel many kilometers… The restaurant Cap Seguin is waiting for you at 20 minutes from the Champs-Elysées, on the Quai Alphonse Le Gallo, alongside the Seine.

Created in 1993 by Marc Bungener, this one went into a partnership with Manuel Heurtier ten years after for a renewed success. Today, they warmly welcome you with their team. The sober but elegant decor has been created by the designer interior decorator Pascale de Montrémy, also behind the interiors of the «Petit Poucet», the «Chalet des Iles» or even the «Café de lʹHomme». On the outside, a beautiful terrace offer you a « fabulous view »2 on the Saint-Cloud Park, an « ideal place for a romantic dinner »3… Total escape guaranteed !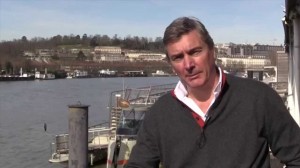 In the kitchen, the Chef Manuel Heurtier, trained by the most important names in French gastronomy – Jean-Pierre Coffe, François Clerc or even Jean-Louis Costes concocts you Basque dishes, typical from his region. He puts his creativity and love of good food in his cuisine and proposes a menu « full of life, colours and generosity »4. Between land and sea flavours, his dishes are prepared from raw products depending on the market.
If you like fish, you can enjoy a ceviche of sea bream with lime and coconut milk, served with popcorn and avocado or even gingerbread crusted cod accompanied with pears, mushrooms and cherry tomatoes5… However, if you prefer meat, the cushion of veal and its peas, pickles of vegetables and dry coppa is for you. As you can imagine, « relaxation and gastronomy"5 are on the menu. For the wines, if you want to complete your meal with a white wine, our Pouilly-Fumé Villa Paulus 2014 is now available on the list. And if you don't drink the bottle you ordered, don't worry, you can take it with you in a bag!

Sources (text and photos) : 1 bestrestaurantsparis.com ; 2 capseguin.com ; 3 leblogdeboulogne.com ; 4 la fourchette.com ; 5 capseguin.com