Two years have passed since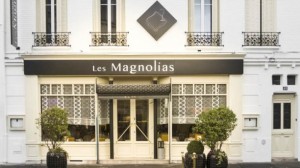 Pierre-Henri Morel and Jean Morel took over the Magnolias, renowned restaurant in Perreux-Sur-Marne, East of Paris.
In this gastronomic adventure, the young Chef Pierre-Henri Morel is accompanied by his father, Jean Morel. Previously hotel manager for the Accor Group, he wanted to give his son a little help by offering him to run the Magnolias.

However, it is not easy to succeed starred Chef Jean Chauvel, who "turned this suburban table into an institution, a place full of gastronomic discoveries"1. But, for the Chef Pierre-Henri Morel, the star of his predecessor is not an obsession. First, the father-son duo tries to maintain the renown of the establishment as well as its cuisine. And it is already done as the restaurant is actually awarded by 3 toques Gault & Millau.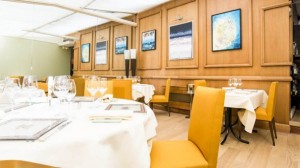 Most of the team continues to operate in welcoming the finest gourmets in this "refined and chic setting" 2. In this cosy atmosphere, velvet seat covers and woodwork are appropriate. Besides, the elegance of the place lends itself to temporary exhibitions of painters and sculptors that are regularly settled in the main room.
In the kitchen, the Chef Pierre-Henri Morel busies himself so that customers could enjoy a "sincere cuisine"1 made of creative, visually appealing and delicious dishes. Indeed, the Chef, who worked previously in famous restaurants such as le Crillon or la Plaza Athénée, is attentive to the presentation he gives to his Asian-influenced plates3 and makes sure to use high-quality products coming from Ile de France region. For this, he selects his providers in Rungis "through a meeting and a trust-based partnership of excellence"4.
« Pierre Henri Morel knows how to make chic and spectacular without forgetting flavours », Gault & Millau 2016.

For the wine, a young sommelier has joined the team : Mickaël Haelling, who worked before at l'Atelier de Joël Robuchon. This one continues add wines of vignerons indépendants to the 230 references of the cellar but also organic wines1 and makes sure that there is at least one wine of each French regions. Today, our Pouilly-Fumé Pierres de Pierre 2014 has been selected to complete the restaurant cellar. Thus, you can combine it with crayfishes "Pattes rouges", with orange-perfumed baby carrots or a crunchy semi-cooked tuna with Japanese plums, young vegetables and nettle exctractions4. And for the finest gourmets, the best is to let the Chef leading you with his Menu Découverte.
Sources (text and photos) : 1 Gault & Millau 2016 ; 2 lafourchette.com ; 3 Guide Michelin 2016 ; 4 lesmagnolias.com ; 5 leparisien.com