Actually centenarian, the Auberge du Père Bise had become through the years a key place of the French gastronomy. Created in 1903 by François and Marguerite Bise, this family institution maintains its "sweet life" in the village of Talloires.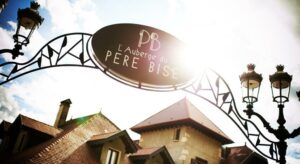 Today, the Chefs Charlyne and Sophie Bise, last members of the family, and their team welcome you in a unique place in the banks of Lake Annecy . Having lunch in a summer garden with an exceptionnal view on water or having dinner by the fireside? The choice is yours…
After one century of culinary traditions, the establishment has lost none of its renown and keeps maintaining its Michelin star. Here, "elegance and simplicity" are the watchwords.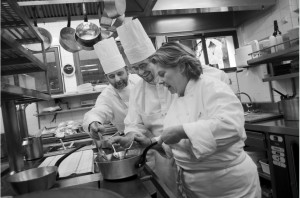 A traditional ambience, as well as the search of excellence prevail. In the kitchen, the Chef Sophie Bise ensures that authenticity is kept while imposing her personal touch. Creative, this one proposes refined dishes on the menu, realised with regional and local products, in the respect of seasons. The menu "conformed with her taste and aspirations" is a genuine "invitation to pleasure and tasting". "I want people to find emotional values of past generations. But I can't renounce to my personnality and desirs by bringing boldness and creativity"3 , she reveals to Relais&Chateaux.
Guide Michelin 2016 : "And in the plate, the great classicism competes with modernity, with delicacy, flavour and precision."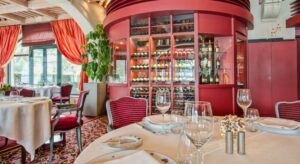 Concerning wine, the Auberge du Père Bise provides a list of wines from "an exceptionnal cellar"2 composed of "historical crus"2 as well as regional wines and from now on, of our Pouillly-Fumé Villa Paulus 2013, that you can combine with a steamed Wild Turbot or a Crayfish of 'our lakes', in Marguerite Bise's style.
Sources (text and photos) : 1 : www.lafourchette.com ; 2 : www.perebise.com ; 3 : www.relaischateaux.com ; www.iloveemotion.com.