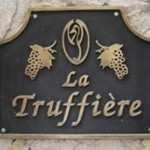 What would you think about a half lobster from Britain and its raviole of foie gras with black truffle served with a Pouilly-Fume Les Pierres de Pierre or Les Angelots?
It is in the heart of the old historical Paris, in the Quartier Latin that La Truffière is located. Both a Wine shop and a gastronomic restaurant** awarded by 3 toques Gault&Millau, this establishment is actually the rendez-vous of gourmets. And as you can guess, its signature is the truffle. Black or white, it emphasizes every dish served in the restaurant, for the greatest delight of amateurs.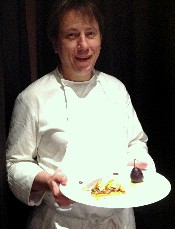 Christian Sainsard, became the owner of the establishment in 1984 et since, tries hard to transmit his passion for wine and food service. And since February 2016, a new Chef Christophe Poard joined the team. He elaborated an "artist's cuisine"1 caracterised by its "originality, the pleasure of taste and the respect of its products"1, products of terroirs carrefully selected following the seasons. This one learned with the greastest Chefs such as Le Clos Longchamp ** (Jean-Marie Meulien), Le Jamin*** (Joel Robuchon) or even Le Grand Vefour*** (Guy Martin).
Then, all the team welcomes you in a "spirit of sharing and conviviality"1 in the different lounges that can be made private for a day : a lounge with exposed beams in the ground floor or a voulted cellar from the XVIIth century? The choice is yours.
« Fine preparations, pure and harmonious flavours : what could be better ? », Guide Michelin 2016
Concerning the wine, the list has been awarded several times as it is remarkable and count no less than 4700 French and Global references2, including today our Pouilly-Fume Les Pierres de Pierre et Les Angelots, harvested on flint and har limestone. Effectively, since 30 years, the owner Christian Sainsard, passionnate about wine, travels in the all world to share its discoveries with you.
Hence, you could enjoy in an intimate and friendly setting the creative dishes of the Chef Poard : a half Lobster from Britain, raviole of foie gras with black truffle, pressé  of potatoes and bouquetière of vegetables  or a Parmentier of Beef with black truffle. The cheese board will also suprised you with its 30 cheeses, all ripened differently. As a dessert, the chocolate afincionados will enjoy the Déclinaison of chocolate, crunchy cacao and «Dulce» ice cream whereas others will prefer the Croustillant of nuts, truffled mousse, Jasmin ice cream and coulis of blackcurrant and lime.
It's a safe bet!3

Sources (Text and photos) : 1 latruffiere.com ; 2 bestrestaurantsparis.com ; 3 Guide Michelin 2016
Information :
La Truffière – 4, Rue Blainville – 75005 Paris – +33(0)1.46.33.29.82
Open from Tuesday to Saturday from 12:00 to 2:00 pm and from 7:00 to 10:30 pm.